Children's Chapel (Not meeting due to Covid-19)
10:30 a.m. service
This ministry teaches children ages 4 – 2nd grade about our Episcopal worship through a child friendly service that meets during part of our 10:30 a.m. worship service from September through May. The children go from Sunday School to Chapel and come back into worship at the Peace (before Holy Communion).
Messy Church is coming!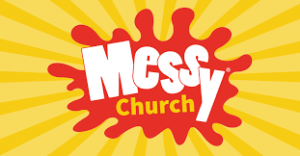 Messy Church is coming to Christ the King November 1, 2020.
Where:  Parish Hall (with Social Distancing between families)
Time:     9:15 AM – 10:00 AM
Come join our multi-generational worship and activities once a month downstairs in our Parish Hall.
This time will feature child friendly worship, a Children's Sermon, and Holy Communion for the family.
Families will also watch a short video lesson and have a simple craft to do at your family table.
We hope you will join us for Messy Church.  Future dates are November 29, 2020 (First Sunday in Advent)
and January 3, 2021 (Epiphany).  Please see our Event calendar for dates past January 2021.
Masks will be required for children and adults, unless the child is too young to wear one. All are welcome!
Children's Education (offered via Zoom when Messy Church is not offered)
Kindergarten to Fifth Grade
Classes are offered on Sundays at 10:30 a.m. 11:15 am from September through May. Our varied lessons provide memorable Bible learning plus interactive teaching tools to engage students. Lessons are designed to encourage faith development beyond Sunday so faith grows all week long.  Please contact the church office for the Zoom link at: 520-297-2551.