Children's Chapel 
10:30 a.m. service
This ministry teaches children ages 4 – 5th grade about our Episcopal worship through a child friendly service that meets during part of our 10:30 a.m. worship service from September through May. The children go from Sunday School to Chapel and come back into worship at the Peace (before Holy Communion).
Messy Church is coming!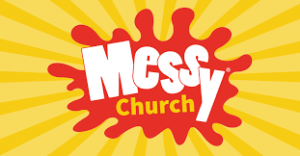 Messy Church is taking a break and will hopefully be returning in 2023.
Children's Education
Kindergarten to Fifth Grade
We are currently on our summer break and will be returning in September.  The classes are in person and children will be joining their parent at the Peace.  Classes are offered on Sundays at 10:30 a.m. 11:15 am from September through May. Our varied lessons provide memorable Bible learning plus interactive teaching tools to engage students. Lessons are designed to encourage faith development beyond Sunday so faith grows all week long.