Rector's Corner
Greetings Christ the King,
Well, summer is definitely upon us– make sure you stay cool. I wanted to let you all know about some of the improvements that are happening around Christ the King (CtK) this summer.
Many of you know that CtK received a large donation from the estate of David White last year. As part of his wishes, he wanted to make sure improvements were made to the facilities with the money he donated and the money just didn't sit around in an account somewhere.
The Vestry and I decided the best way to use this money was, first, to replace the broken cross on the Bell Tower. That pr
oject is complete. The second, bigger project is to enclose our Atrium, so we can use it year round, rain or shine, for coffee fellowship after church and other receptions. When we receive the digital drawings from our Architect, Warren Edminster, we can get contractor bids and get that job started. I am hoping to have the Atrium done by September. We will post the plans as soon as we have them back.
Some of the other changes you will see or will be seeing are:
1. New Metal Worship Signs on our building in three places (East Courtyard, beside the great doors of the Atrium, and next to the Red Door on the lower level) and on Ina Road. The signs highlight all our Worship Services by day and time, the correct time for Christian Education on Sunday, and our Website. The money for these signs came out of our Evangelism Fund and not our budget. This project is complete.
2. The Columbarium was in need of much-needed maintenance. Most of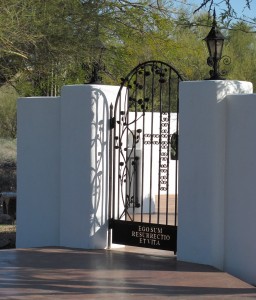 this project is complete, but ongoing maintenance will continue. The money for this maintenance is being taken from our Columbarium Maintenance Fund and not the budget.
3. The Music Room and Nursery Room are switching places to accommodate a very active and growing Music program. Both rooms are having some painting, cleaning, and fixing of walls and ceilings. The money for this project is mainly coming from General Maintenance in our budget.
4. During the weekend of July 14-16, the floors in the undercroft on the window side were stripped, waxed and buffed.
5. In mid-July, there was be some much-needed maintenance done on our 20+ year-old irrigation system. Some parts of the system were not working and we needed some new lines run to save our expensive plants. The cost of this project will come out of the Capital Improvements Fund and General Maintenance.

Some of the other changes you might notice are on and around the altar in the church. In cleaning out some storage spaces in the undercroft, another matching wooden candelabra and a flower holder that matches our altar were found. These will be in place starting this weekend.

These are all exciting improvements happening in our "slow" time. Please let me know if you have any questions.

Blessings in Christ,
Mother Anita +